Last month I wrote about whether or not chess was good for schools. If you read that post (and I will put a link at the bottom), you realize that I think chess definitely belongs in schools, but it needs to be carefully monitored. There are ways it can go astray. Regardless of whether or not your school has a chess club, parents should make sure their children are playing chess. Homeschoolers should be teaching it, even if they have never played themselves – learn it together! I will give three reasons why this is true: what it teaches, the wide open opportunities to play, and it's lifelong nature.
First of all, chess teaches logic, which directly impacts a child's performance in schools. Studies repeatedly confirm this fact. Kids who play chess get better grades; it's that simple. What's not always mentioned is that chess is also teaching the ability to plan ahead, which is important in academics and in life in general. Hand-in-hand with lessons on planning are lessons on consequences. Often enough, right behind that comes lessons in digging yourself out of a hole. (At least that's true when I play!) All of these things exist just as much in the classroom as they do in the game of chess.
Dayton's Chess club is a landmark downtown.










Secondly, chess is a game that can be played anywhere. Opponents are easy to find if you want to find them. An obvious possibility is the school. It's so obvious I'll move on. For those children who are homeschooled or do not otherwise have school opponents, there are local chess clubs. Most small cities have a chess club; larger cities may have several. They will be in the phone book if nowhere else. Often a club will have a Kids' Night, in which children are the focus of play. They may even have some adult players providing some casual coaching. Libraries are increasingly involved with gaming, which is particularly true for chess. Our local library in Dayton has at least one chess night a month.
If the local chess club or library isn't an option, chess is one game that can be played online very safely. They should be monitored of course; I strongly believe in knowing where your kids are both in the real world and in cyberspace. However, chess is often played with no conversation between online opponents. There are sites exclusively provided for children like
http://www.chesskid.com/
, which is run by the people at chess.com. This a very user friendly site that allows parental control. I play at chess.com, and I find the entire experience to be easy and fun. There isn't any software or crazy connections, and games can be downloaded for study.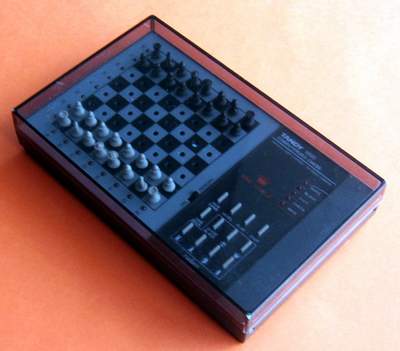 One of my boards is this old Tandy 1650, which is great!
Another way to play is against a computer opponent. This can be a computer program either on an actual computer or on a gaming console. Nearly all of the consoles have them for sale. It could also be an electronic board, complete with pieces. I have an old, small Tandy electronic board, and it is great. I will say I rarely use it, though, since I play online and can use my phone. I would recommend a program, since they generally have tutorials or some way to rate play, and are therefore better at helping a new player improve. Don't worry about buying the best software. Anything sold these days is far better than most people will ever be. Go with what fits your budget.
The third reason to teach your child chess is that it is a lifelong activity. Chess is a lifestyle game, which means that it can become a major hobby by itself, exclusive of other games. Bridge and go are other lifestyle games. Magic the Gathering and poker are too, but they can be much more expensive! In any case, introducing your child to chess may give them something they enjoy for the rest of their life.
Don't worry about equipment at first. A simple dollar store chess set will do. So will books out of the library, if you are on your own. As your child shows interest, it's easy to find more books at any reasonably sized book store. Nicer chess sets can be found all over the internet, and tournament sets and boards are not expensive. The important thing is to make sure your child is having fun. The learning is in the play, not necessarily in the lecture.
It's Your Move!
Related Posts
: